Assessment and Development
Our aim is to help you, your team, or your organization reach its optimal level of functioning and performance. Employee wellness, environment optimization, and effective relationship management are central to our motives. We emphasize personal development and emotional intelligence, as well as being and mental health, has never been more important. 
We make use of psychometric and behavioral assessments during our planning phase. Each assessment is used for a different purpose, and at times we use a combination of assessments to help us gain a holistic picture. Based on the results, we will sit with the executive and plan the best strategy forward. This may include personal development plans for members of staff, team development for small groups, or environment change through behavioral and habitual coaching. 
​
Our services are rooted in neuroscience and psychological principles, and we provide a thorough and holistic change strategy for each organization we work with. We also work with upper management in leadership development and executive coaching. We are able to personalize our services as consultants or coaches, depending on your needs, regardless of the industry you operate in. To find out more about how we can best serve your organization, feel free to contact us using to contact details on the website.
Our vision is to help people live healthier lives. We want to empower your people to stay fit and healthy. We continually strive to develop innovative and engaging wellness programmes to support the health and wellbeing of your people. To book a consultation with a member of our wellness team, complete the below form and a member of our team will be in contact.
Mental Health
Coping with stress can be challenging but once you have the tools to deal with any scenario or outcome, the bumps on the road become easier to navigate.
Nutrition
Feeling good starts with eating good. Your diet is often the reason you're not feeling well, and we bring in specialist nutritionist to educate you on dietary choices.

Movement
Movement is the best remedy to shake off the cobweb and re-energise. Replenish your positive flow, strengthen your core and stretch back into vitality.

Connection
Being connected to the real you allows you to create healthy boundaries for yourself and with those around you including family, friends and colleagues.
Comprehensive Decision Making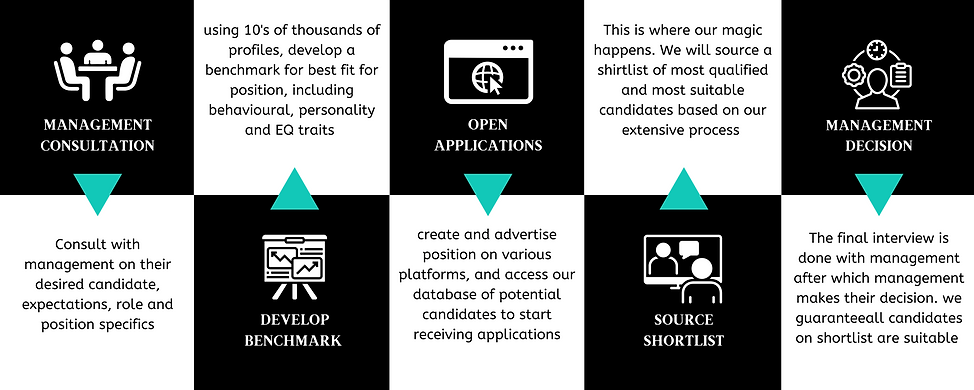 Incorrect recruitment strategies have been shown to cost businesses hundreds of thousands in excess spend. Our recruitment and decision making tools will allow you to save resources, time and manpower. We guarantee a successful hire, every time.
We offer recruitment consulting to assist your company in hiring and placing the correct people in the correct office. We understand that performance is about more than just a skillset, and we will work hard to ensure that you find the best candidates for company and environment fit. 
We use a combination of testing and assessment in our recruitment process, along with required skill identification with management and HR. The assessments we use have well defined benchmarks for hundreds of professions and positions, derived from more than 10 million candidates accross the globe. We are therefore confident that we can help you find your ideal people.